U.S. Roadside Attraction no. 8
Foamhenge, Natural Bridge, Virginia
The first thing that we see when we arrive at Enchanted Castle Studios - home of Mark Cline, fiberglass sculptor and roadside visionary - are dozens of giant blocks of white styrofoam lining the road and littering the yard. They are the raw material for Foamhenge, awaiting the master's chisel.
"About 15 years ago I walked into a place called Insulated Business Systems where they make these huge 16-foot-tall blocks," Mark tells us. "As soon as I saw them I immediately thought of the idea: 'Foamhenge.' It took a while for the opportunity to present itself, of course."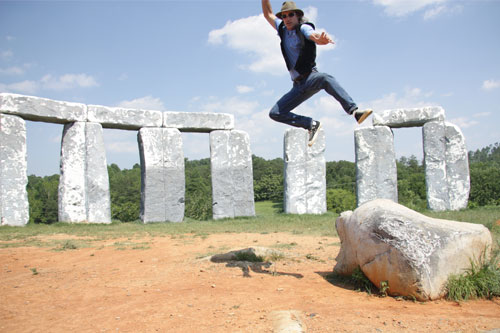 Fifteen years later, after Mark became a vortex of creative chaos in Virginia with attractions such as House Of The Living Dead (Natural Bridge), the Scare Witch Experience (Lexington), and Professor Cline's Time Machine (Virginia Beach), he struck up a working partnership with the owners of Natural Bridge -- a wonder-of-nature attraction -- and the last megalith fell into place. "They let me do just about anything," Mark tells us gleefully. "They know that I bring people in."
On the site now occupied by Foamhenge, Mark originally wanted to build what he calls "Hayride Through The Civil War," an attraction that somehow would involve fiberglass molds of reenactors' faces. Mark hasn't the time to explain its details or its appeal beyond the broad, "This is Civil War country." The plan was dropped in place of Foamhenge because "this was cheaper and faster to build first."
Mark heaves a fiberglass dinosaur into the back of his pickup truck, full-throttles it down Hwy 11, and we follow as fast as we dare to the site where Foamhenge is taking shape. When complete it will be the most photogenic Stonehenge in the world, even more striking than the original, as this one stands on a bluff amid the pretty Blue Ridge Mountains.
It is, Mark points out, the only American Stonehenge that really is an exact replica of the time-worn original. "I went to great pains to shape each 'stone' to its original shape," he tells us, fact-checking his designs and measurements with the man who gives tours of Stonehenge in England. Mark has even consulted a local "psychic detective" named Tom who has advised him on how to position Foamhenge so that it is astronomically correct. As if on cue, Tom pulls into the parking lot and huffs his way up the steep, windswept hillside to talk business with Mark. Tom wears an oversized t-shirt whose front is filled with a giant head of a space alien.
Address: Hwy 11 South, Natural Bridge, VA
Directions:
I-81 exit 180. On a bluff set back from the southbound side of Hwy 11, just south of the Natural Bridge Petting Zoo, one mile north of Natural Bridge. You need to be driving southbound to see it. Gate at base of hill leading to Foamhenge is sometimes locked, but visitors can walk around the gate to visit Foamhenge.
Hours: Gate at base of hill sometimes locked, but visitors can walk around it.
Admission: Free
RA Rates: The Best