Museums and Galleries "Smithsonian Institution, Washington, D.C."
The Smithsonian Institution, established in 1846 "for the increase and diffusion of knowledge," is a group of museums and research centers administered by the United States government. Originally organized as the "United States National Museum," that name ceased to exist as an administrative entity in 1967. Termed "the nation's attic" for its eclectic holdings of 137 million items, the Institution's Washington, D.C., nucleus of nineteen museums, nine research centers, and zoo—many of them historical or architectural landmarks—is the largest such complex in the world. Additional facilities are located in Arizona, Maryland, New York City, Virginia, Panama and elsewhere, and 168 other museums are Smithsonian affiliates. The Institution's thirty million annual visitors are admitted without charge; funding comes from the Institution's own endowment, private and corporate contributions, membership dues, government support, and retail, concession and licensing revenues. Institution publications include Smithsonian and Air & Space magazines.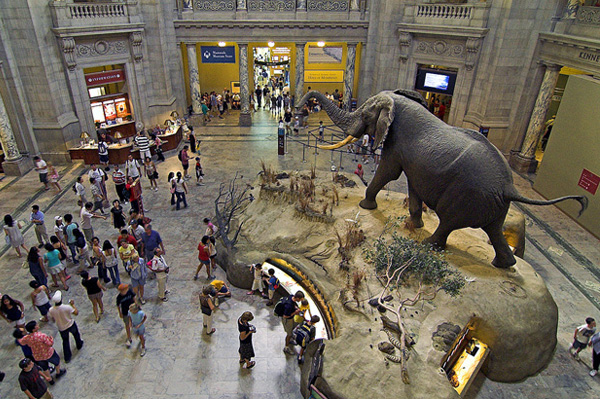 Nineteen museums and galleries, as well as the National Zoological Park, comprise the Smithsonian museums. Eleven are on the National Mall, the strip of land that runs between the Lincoln Memorial and the United States Capitol. Other museums are located elsewhere in Washington, D.C., with two more in New York City and one in Chantilly, Virginia.
The Smithsonian has close ties with 168 other museums in 39 states, Panama and Puerto Rico. These museums are known as Smithsonian Affiliated museums. Collections of artifacts are given to these museums in the form of long-term loans. The Smithsonian also has a large number of traveling exhibitions. In 2008, 58 of these traveling exhibitions went to 510 venues across the country.
Among the Smithsonian's most famous items are the Hope Diamond and the ruby slippers. For Go Skateboarding Day in 2013—June 21—the Institution accepted professional skateboarder Tony Hawk's first skateboard. A skateboarding exhibition accompanied the submission and other professional skateboarders such as Chris Haslam, Rodney Mullen, Fred Gall, Shaun Gregoire, and Brian Anderson were also in attendance.
The Smithsonian continues to broaden its collections to include more contemporary items. In late December 2013, the Smithsonian announced it had acquired two video games: Flower (2009), by Jenova Chen and Kellee Santiago, a game about the environmental impact of pollution, in which the player controls a wind-blown collection of flower petals; and Halo 2600 (2010), by Ed Fries, a retro remix of the popular first-person shooter (FPS) game series, Halo. "The best video games are a great expression of art and culture," said Elizabeth Broun, the Smithsonian American Art Museum's director.