7. The Potala Palace in Lhasa — Symbol of Tibet
The Potala Palace is a symbol of Tibet. In 1994 it was declared a UNESCO World Cultural Heritage Site. It is a huge treasure house of materials and articles from Tibetan history, religion, culture and art. The palace is widely known for the precious sculptures, murals, scriptures, Buddhist statues, murals, antiques, and religious jewelry housed within.
Brief Intro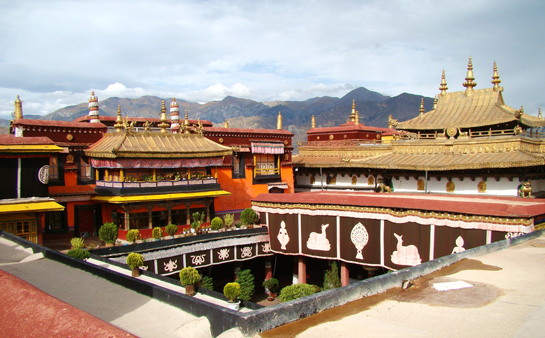 Potala named after a holy hill in South India is a Sanskrit word meaning "Abode of the Avalokitesvara (Buddha of Mercy)." Legend has it that in the 7th century, to greet his bride Princess Wen Cheng of the Tang Dynasty (618B.C. - 907B.C.) of China, the then Tibet King Songtsen Gampo built a 9-storey palace with a thousand rooms up on the Red Hill and named it Potala. Later, with the collapse of the Songtsen Gampo Dynasty, the ancient palace was almost destroyed in wars. What we see at present is the architecture of the Qing Dynasty (1644B.C. - 1911B.C.) and the continuous expanding work outcome since the 17th century.
Major Structures
Potala Palace is composed of 2 parts, the Red Palace as the center and the White Palace as two wings.
The Red Palace or Potrang Marpo is the highest part in the center that is completely devoted to religious study and Buddhist prayer. It was painted to red to represent stateliness and power. It consists of a complicated layout of different halls, chapels and libraries on many levels with an array of smaller galleries and winding passages: The Great West Hall, Dharma Cave, The Saint's Chapel, The Tomb of the Thirteenth Dalai Lama and etc. The 725 sq meters (about 7,804 sq ft) Great West Hall is the largest hall of Potala Palace, with beautiful murals painted on its inner walls. Around the Great West Hall are three chapels, the east chapel, the north chapel as well as the south chapel. The Dharma Cave and the Saint's Chapel are the only two remained constructions of the 7th century with the statues of Songtsen Gampo, Princess Wen Cheng, and Princess Bhrikuti inside.