Shirahone Onsen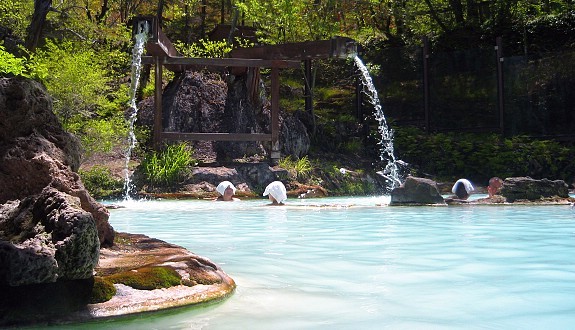 Awanoyu Ryokan's mixed outdoor bath
Shirahone Onsen (白骨温泉, literally "white bone hot spring") is a small onsen town in the Northern Japan Alps. The town is a loose collection of a dozen or so ryokan along the slopes of a steep valley, which lies near famous alpine nature spots such as Kamikochi and Norikura. Shirahone Onsen gets its name from its milky white spring water, which is nearly opaque with magnesium and calcium sediments and is believed to relieve gastrointestinal ailments.
There is one public bath in Shirahone Onsen. Furthermore, many of the town's ryokan open their baths to day trip visitors during the day for a few hundred yen. Among them is the Awanoyu with its large mixed outdoor bath that is often seen in tourist promotional materials about Shirahone Onsen.
The following is a selection of hot spring baths around Shirahone Onsen that open to day trip visitors:
Awanoyu
Hours: 10:30 to 13:30
Closed: Thursdays
Admission: 820 yen

Awanoyu Ryokan is home to Shirahone Onsen's iconic, gender mixed outdoor bath. Its milky water is nearly opaque, has a nice silky feel and is only lukewarm by hot spring standards. Women are allowed to wrap themselves in towels if they wish. There is also a separate women-only outdoor bath and segregated indoor baths for both genders.
Shirahone Onsen Public Notemburo
Hours: 8:30 to 17:00
Closed: Late November to late April
Admission: 510 yen

This public hot spring is accessed by a long staircase that leads from the road down towards the river on the valley floor. Its gender segregated outdoor baths lie right along the riverside, where you can relax to the sounds of rushing water and nature as you unwind in the outdoors.
Ratings:

best of the best

best of Japan

outstanding