Mount Norikuradake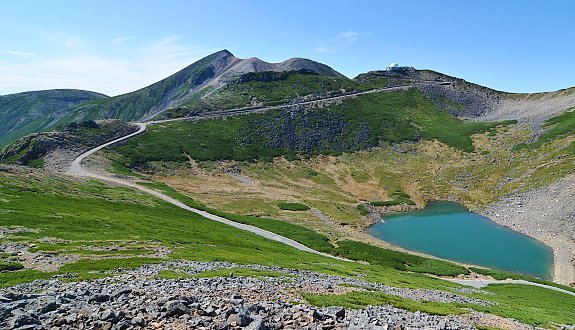 Kengamine Peak, the highest point of Mount Norikuradake
Mount Norikuradake (乗鞍岳, Norikuradake) is a 3026 meter high, volcanic mountain along the border between Nagano and Gifu Prefectures. One of Japan's 100 famous mountains, Mount Norikuradake is the southernmost and third tallest peak of the Northern Japan Alps. It is a well known hiking destination, and an easy mountain to climb thanks to buses running almost as far as the summit.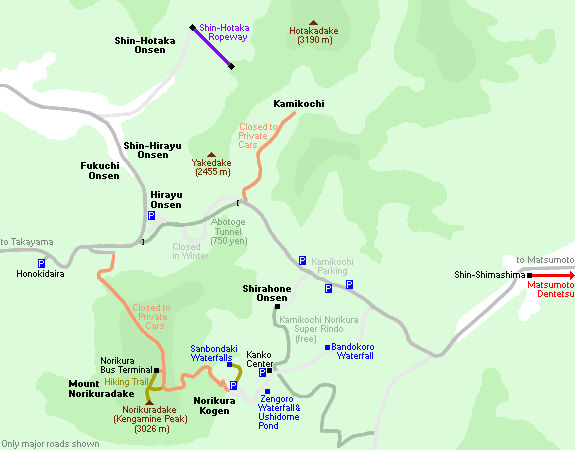 One of Japan's highest roads leads to the Norikura Bus Terminal at 2700 meters above sea level, not too far from the peak. The road is closed to private cars, but buses and taxis carry hikers up from parking lots on both the Nagano and Gifu sides of the mountain. From there it is a 30 minute walk along a gravel service road to a mountain hut; and then a further 60 minutes along a hiking trail to Kengamine Peak, the highest point of Mount Norikuradake.
Mount Norikuradake is a popular autumn color spot and one of the first places in the country to see the changing colors. The alpine plants around the higher elevations usually change in mid September and peak later in the month, but the season lasts into October as the colors slowly make their way down to Norikura Kogenbelow. The high elevation also allows snow fields to remain on the slopes late into the summer attracting adventurous summer skiers who hike up and then ski down.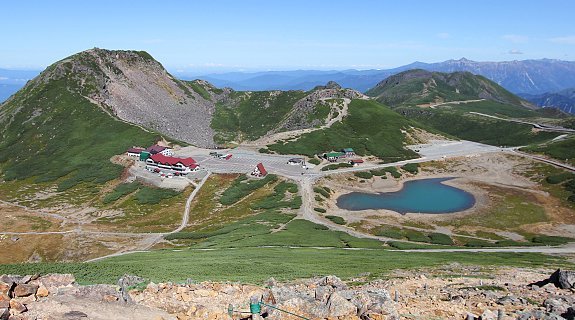 Norikura Bus Terminal at 2700 meters above se level