Daio Wasabi Farm, Matsumoto, Japan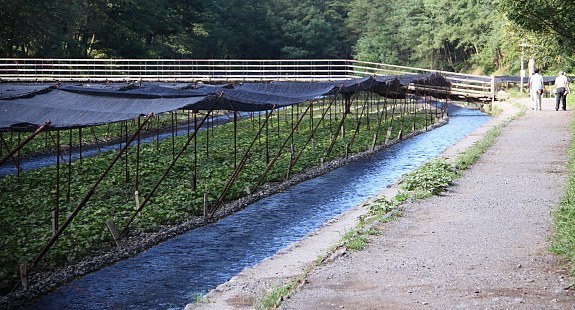 The Daio Wasabi Farm (大王わさび農場, Daiō Wasabi Nōjō) in rural Azumino City near Matsumoto is one of Japan's largest wasabi farms and a popular tourist destination. The farm has multiple large fields with a meticulously maintained network of small streams that constantly provides each wasabi plant with clear, flowing water from the Northern Alps. Only under such pristine conditions is wasabi cultivation possible. From May to October, the fields are protected from the sun by black tarp sheets.
The farm has been attractively developed for tourists with walking trails between the fields. Within the farm stands the Daio Shrine, which enshrines the spirit of an ancient local hero, Hachimen Daio, after which the farm has been named and who is considered the farm's protector. Nearby the shrine is also a small cave related to the local hero's legend.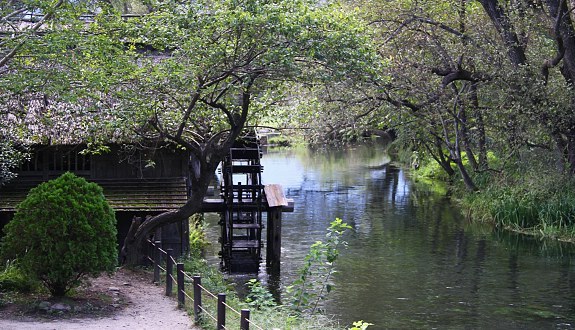 An idyllic scene of old-fashioned, wooden water wheels alongside the river can also be enjoyed from the walking trails. The water wheels were constructed here for the filming of Kurosawa Akira's "Dreams" in 1989 and have been left standing. From late April to late October the scenery can also be enjoyed from short tours on inflatable boats (15-30 minutes, 900-1800 yen).
Last but not least, the farm features multiple shops and a restaurant. On sale is a wide variety of wasabi related products, including fresh wasabi, wasabi paste, wasabi flavored pickles and crackers, wasabi soba noodles, wasabi curry, wasabi sausages, wasabi dressing, wasabi beer, wasabi juice, wasabi soft cream and wasabi chocolate.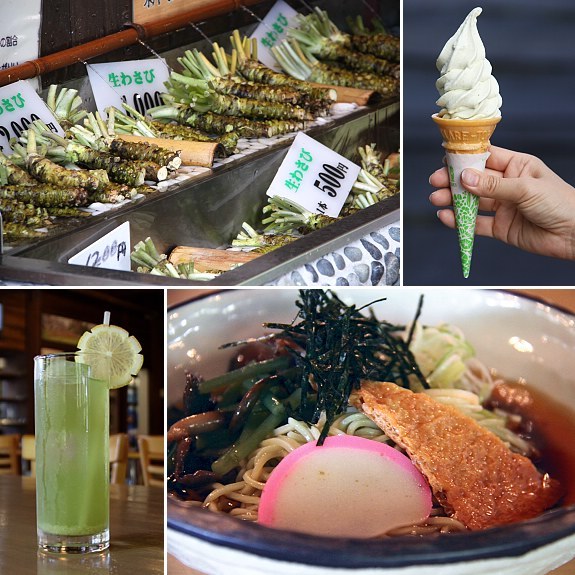 Clockwise from top left: fresh wasabi, wasabi soft cream, wasabi soba noodles, wasabi juice