Olympic Facilities "Nagano, Japan"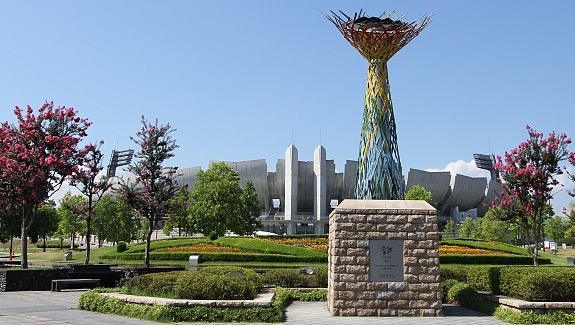 The Nagano Olympic Cauldron and Olympic Stadium in the background
In 1998, the Olympic and Paralympic Winter Games were successfully hosted by Nagano. It was the third time Japan had hosted the Olympics. The various events were held in Nagano City and nearby mountain towns, including Hakuba, Karuizawa, Nozawa and Shiga Kogen.
Today, many of the former olympic facilities can still be viewed around the city. They are now used as sport and concert venues or serve the local community as sport facilities. Their unique architecture remain of interest to locals and tourists alike: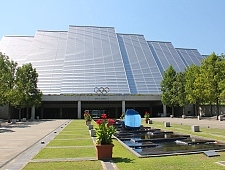 M-Wave
M-Wave is the best place to experience Nagano's olympic past as it houses the Nagano Olympic Museum, which unfortunately opens only on weekends and national holidays. The small museum displays items such as the olympic torch and memorable pictures. It also has a souvenir shop selling commemorative merchandise. The former speed skating venue is now a multi-purpose arena that features an ice skating rink during winter.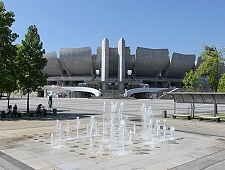 Olympic Stadium

The opening and closing ceremonies were held in this stadium. Today, the area around the stadium is maintained as a spacious park with sports facilities such as a pool and a gymnasium. The area is now collectively known as the Minami Nagano Sports Park. In front of the stadium is the Olympic Cauldron still standing proudly. The names and nations of medal winners at the games are inscribed on a plate attached to the base of the cauldron.




White Ring

White Ring hosted figure skating and short track speed skating events at the 1998 games. The unique structure stands today in the midst of a residential area with many apple orchards. Its multi-purpose indoor arena is currently a venue for various sports events.




Big Hat

Big Hat hosted ice hockey games during the 1998 Olympics. Annual ice hockey tournaments are still held at its indoor ice skating rink. The complex also has a theater which serves as a venue for music performances and public meetings.