Kirishima, Japan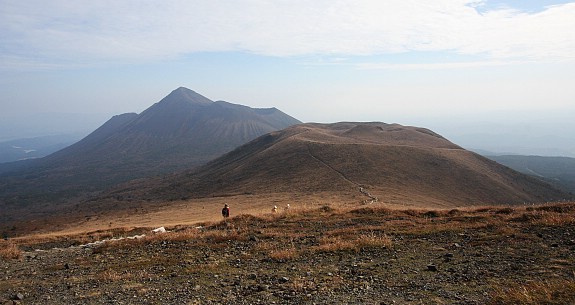 Kirishima (霧島) is an active volcanic mountain range that lies on the border between Miyazaki and Kagoshima Prefectures. It is made up of mountains, highlands, volcanic lakes and hot springs and offers good hiking through beautiful mountainous surroundings. Due to a recent eruption by Mount Shinmoedake and heightened volcanic activity around Ebino Kogen, many of the hiking trails are currently closed.
The mountains of Kirishima play an important role in Japanese mythology. They are said to be the site where the god Ninigi no Mikoto, grandson of the sun goddess Amaterasu, was sent to rule over the earth and establish the lineage of Japanese Emperors. At the top of Mount Takachiho-no-mine you can see the spear sunk in the mountaintop, which Ninigi no Mikoto used to descend to earth.
Ebino Kogen and Kirishima Onsen are the two most prominent resort towns in the Kirishima area. Ebino Kogen on the Miyazaki side of the border, is a small village with a couple of hotels in a highland area surrounded by mountains and volcanic lakes. On the Kagoshima side is Kirishima Onsen, a more developed hot spring town with good baths and nice views over Kagoshima Prefecture.