Ibusuki, Satsuma Peninsula, Japan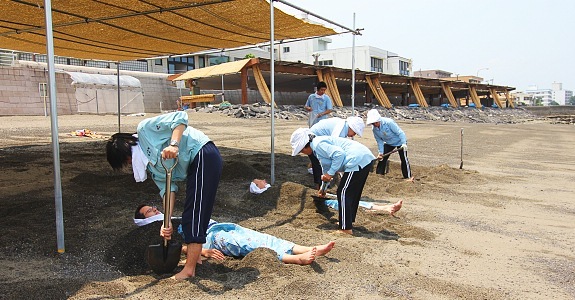 Travelers enjoy a sand bath on the beach at the Saraku Sand Bath Hall
Ibusuki is an onsen town that is famous for its sand baths, where bathers are buried in naturally heated sand. The town encompasses the southern tip of the Satsuma Peninsula, and the main downtown area is along the coast facing Kagoshima Bay.
Ibusuki's sand baths can be enjoyed at a number of hotels and other facilities, but the most popular bathing spot is the large Saraku Sand Bath Hall, which is about a kilometer from Ibusuki Station. At sand baths, guests get provided with yukata robes and are then buried by staff members in hot sand that is heated by natural steam coming up from below. After staying buried for typically 10 to 20 minutes, guests wash off the sand and enter regular hot spring baths.
Although the sand baths are far and away Ibusuki's most famous attraction, there are a number of other activities that visitors can take part in. Local history and various displays of pottery are on display at theSatsuma Denshokan Museum, while another fantastic bathing experience can be enjoyed at the outdoor baths of Healthy Land. At the very southern end of Ibusuki City is Cape Nagasakibana, which has a nice lookout point with views onto the ocean and nearby Mount Kaimondake.
Saraku Sand Bath Hall
Hours: 8:30 to 20:30
Closed: No closing days
Admission: 920 yen

The most popular facility for enjoying the sand baths of Ibusuki, the Saraku Sand Bath Hall is the first spot to visit in Ibusuki for the majority of travelers. It has large facilities, indoor baths, a steam room and spots for being buried in the steaming sand on the beach.
Healthy Land
Hours: 9:30 to 21:30
Closed: Thursdays (or following day if Thursday is a national holiday)
Admission: 510 yen for open air baths (separate fees for other baths)

Healthy Land is a public bath consisting of two separate buildings. Its most impressive baths are a couple of large, gender separated rotemburo (outdoor baths) along the coast with spectacular views. Regular indoor baths and sand baths can be found at the other building about 500 meters away (separate entry fees and hours apply).
Other Attractions
Satsuma Denshokan Museum
Hours: 9:00 to 17:00 (entry until 16:30)
Closed: No closing days
Admission: 1500 yen

Located on the grounds of the Hotel Hakusuikan, this spectacularly designed museum introduces the history of Satsuma (modern dayKagoshima) around the beginning of the Meiji Period (1868-1912) with a focus on local ceramics.
Cape Nagasakibana

Cape Nagasakibana is the Satsuma Peninsula's southernmost tip, still located within the municipality of Ibusuki. A number of shops and facilities in the area cater to visiting travelers, and there are attractive lookout points onto the water. Particularly nice is the view of nearby Mount Kaimondake, which is also known as "SatsumaFuji".
Flower Park Kagoshima
Hours: 9:00 to 17:00 (entry until 16:30)
Closed: December 30-31
Admission: 620 yen

The Flower Park Kagoshima is a spacious, attractive botanical garden that is located about a kilometer north of Cape Nagasakibana. There is a focus on tropical flowers both native to Japan and from other countries of the world. There are also some lookout points along the coast.