Bessho Onsen "Nagano, Japan"
Bessho Onsen is a small hot spring resort town just outside of central Ueda City in Nagano Prefecture. During the Kamakura Period (1192-1333), it served as the headquarters of the governor of the Shinshu Region (today's Nagano Prefecture), who built temples and brought Kamakura culture to the mountain town. This made Bessho Onsen into a prosperous center of education and religion, and in turn earned the town the nickname "Kamakura of Shinshu".
Bessho Onsen is the oldest recorded hot spring in the region. Its sulfurous waters have long been regarded for their healing properties and are said to have healed the arrow wounds of warriors who bathed in them. There are three small traditional public bath houses found around town that offer visitors a chance to experience the atmosphere of a small neighborhood hot spring bath. For larger baths and more amenities, head to the Aisome no Yu public bath house at the entrance of the town.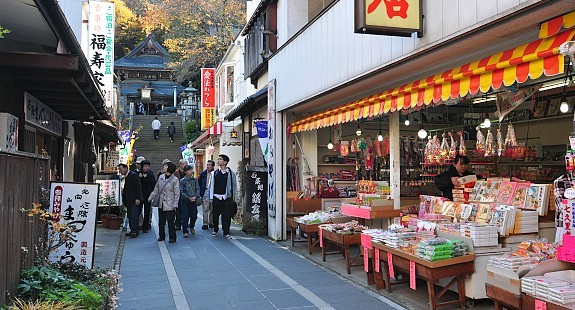 The approach to Kitamuki Kannon Temple
Bessho Onsen is a compact town that is easily explored on foot. Its temples are found along the wooded slopes surrounding the town, and are connected with the town center by narrow streets and lanes lined by small shops, restaurants and ryokan. All of Bessho Onsen's attractions can be reached in a ten to fifteen minute walk from Bessho Onsen Station.